Ceramic has a common character, that is hardness is big, but very fragile, so process difficulty is very big, so purity is 99 alumina ceramic process hardness and brittleness how?Let me give you an analysis of yuefei ceramics factory.
99 alumina ceramics refers to engineering ceramics with a content of more than 99%. According to the national standard GB/ t5593-1999, 99 alumina ceramic materials have a high hardness, high strength, low expansion coefficient, and are insulated, wear-resistant and corrosion-resistant, which are widely used in mechanical manufacturing, aerospace, precision instruments, petrochemical and other fields.Aluminum oxide ceramic parts are usually formed by isostatic pressure sintering. As sintering often leads to deformation and shrinkage, more finishing is needed to ensure the size accuracy and shape accuracy of the parts.However, alumina ceramics generally have large elastic modulus, high hardness, high brittleness and strong crack sensitivity.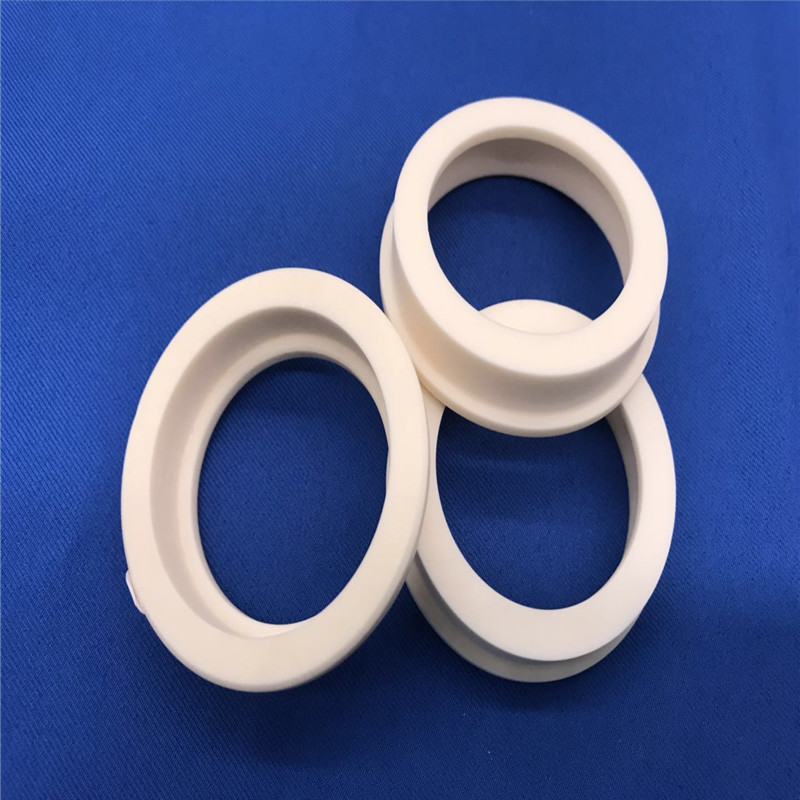 Alumina ceramic processing hardness: main AL203 are alpha, beta, gamma three crystal morphology, the crystal morphology of alpha AL203 most stable, 1300 ℃ I3 almost completely into the alpha and gamma crystallization crystallization.
In the crystalline form of epoxy-al203, the atomic bonds formed by aluminum ions and oxygen ions are mostly covalent bonds, ionic bonds or their mixed bonds. Therefore, the binding energy between atoms is very high and has a strong directivity.
Its hardness is equivalent to that of carbide cemented carbide and several times higher than steel. Usually, high-purity alumina ceramics have a density of 3980 (kg-m4), tensile strength of 260 (MPa), elastic modulus between 350 and 400 (GPa), compressive strength of 2930 (MPa), especially its hardness of 99HRA.
The strength and hardness of alumina ceramics have been reduced. According to the determination of experimental samples, the hardness of alumina ceramics at room temperature has reached 70HRA.

Alumina ceramics machining brittleness: normally alumina ceramic microstructure of equiaxed grain, is made up of polycrystalline ionic bond or covalent bond structure, fracture toughness is low, therefore, under the action of external load, the stress will make the ceramic surface produces slight crack, the crack will rapidly expanding and appear brittle fracture, therefore in the process of alumina ceramic cutting, o often occurrence collapse phenomenon, namely in the ceramic surface cracks, small gouges where whole pieces were missing.
The reasons for the burst phenomenon are:

(1) the final separation of the excised part of the material and the processed surface is caused by tensile failure, which is not the result of normal cutting.

(2) the crack caused by crushing cutting deformation is generally always cracking down along the workpiece surface. At this time, the collapse phenomenon is formed due to the cutting tension stress, which flakes the cutting and the workpiece matrix together.
It should be noted that the larger the tensile stress, the more serious the burst phenomenon, which may lead to the waste of the entire workpiece.